In the Jewish world, this has been a school year of many lists – particularly lists of the best and worst colleges for Jews.
As the one and only national online magazine for Jewish college students, we've decided to add our voice to the mix and create a list of our own – a ranking of the worst lists of colleges for Jewish college students.
Why? Because who doesn't love lists?
Our methodology: We will rank Jewish student life rankings from "Least Reductionist Regarding Our Diverse Experiences as Jewish Students" to "Oh My God My Eyes It Burns It Burns."
We will assign 50.4 points for transparency about how the ranking was made, 30.7 points for not assuming we're a homogenous blob of student matter, and 23.2 points for colorful, informative graphics. A ranking will receive negative 16 points if any of the following phrases appear: "hatred," "doom," "battle," or "Jewish continuity."
Just kidding, we have no methodology. We also can't do math. You'll just have to trust us.
Oh My God My Eyes It Burns It Burns
1. The Algemeiner's List of 40 Worst Colleges for Jewish Students
Pros: You can view it as a slideshow! 
Cons: Everything else. Why so negative, Algemeiner?
Level with us here. If Columbia University – home of kosher dining, multiple minyans, and a joint program with Jewish Theological Seminary – is the worst school for Jewish students, the campus of young yids' nightmares, you're probably defining "bad for Jewish students" wrong. Campus Jewish life cannot be weighed in SJP kerfuffles alone.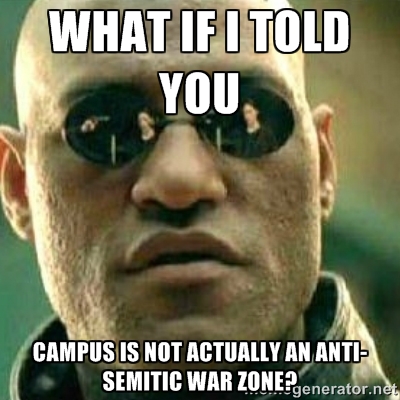 Plus, if we followed this particular list, we'd all be going to the (supposedly) least worst school: University of Tennessee, Knoxville. Why would you do that to us? Why?
2. Hillel International College Guide
Pros: This guide has an easy, searchable format and some fun stuff for the Jewish and nerdy among us: where the kosher food at, where the rabbis/Jewish educators at, Jewish Studies opportunities, etc. It also has the basics: number of students, tuition, and acceptance rate. In other words, it rightly assumes we also care about things normal students care about – along with all things Jewish.
And thankfully, the guide is pretty positive. It gives a lot of space to Israel programming but without doom and gloom about BDS and the like.
Cons: This guide is geared at a certain kind of Jewish student. His name is Josh. He's going to join AEPi. He'll eventually go on Birthright and take a #dope #TelAvivclubselfie then wistfully return to campus. From that day on, he'll go to Hillel BBQ every week and pregame with the Chabad rabbi on Friday nights.
Don't get us wrong, Josh is a great guy. We love Josh. He's just not everybody. Some students are going to want to know a whole lot about Jewish Greek life and Israel advocacy options, but different students are going to value different things. Some will want to know about Jewish clubs, Jewish community service opportunities, what kinds of resources the campus offers different denominations… No guide can do it all, but there's room for improvement here.
Also, aside for Greek life, the guide doesn't really mention Jewish groups outside Hillel. We get it. Why advertise the competition? But if Hillel really wants give us the skinny on campus Jewish life, they're gonna have to tell us more. 
Pros: This guide is the most transparent about how the rankings were made. And like the Hillel International guide, it takes into account cost and academics – but cranks it up a notch with more detail: information on other Jewish campus organizations, local synagogues of all different denominations, funky Hillel clubs, ultimate frisbee teams, famous Jewish alumni, and fun facts. (Did you know Tulane offers a class called "The Big Lebowski and Philosophy"? Now you do.) It also does a nice job of explaining resources for Orthodox students if that's your thing.
The guide doesn't shy away from telling you about its more controversial choices. For example, it acknowledges the pitfalls of using data from the AMCHA Initiative (AMCHA = Ahhhhhhhhhhhh My Campus Houses Anti-Zionists). The guide explains what parts of the data they used to try not to conflate anti-Semitism with critiques of Israel's policies.
The Forward also later included student voices that disagreed with the guide's rankings. Classy.
Cons: Kudos where kudos are due for publishing student feedback. But in the process of creating the guide, where my student voices at? This is a general problem with these Jewish college lists. Many rely on Jewish campus professionals without consulting the real experts, us. And why not? We're so wise! (For example, we could tell you cost is way more important to us than 10 measly points. Hellooooooo, student debt.)
Also, there's still a Josh problem here. Granted, this guide has a wider variety of categories than its predecessors. But it places even greater emphasis on Israel, with a focus on the size of Birthright trips, Israel-related clubs, BDS resolutions… (Josh will get very involved in these causes when he gets back from Birthright with his bros.)
But we Jews need to acknowledge an inconvenient truth. (Not climate change. The other one.) Many Jewish students are pretty unaffiliated, and at least at first, look to Jewish campus organizations to pursue the not-specifically-Jewish things they're already into in a Jewish context. Which means a Jewish college guide needs more diversity. It needs to tell us Jewish ways to get involved in issues that matter to us outside the Jewish world. "Most Unique/Noteworthy Hillel Club" is a start, but let's dig deeper.
What do we mean? Well… 
4. The Jewish College Guide of Our Imagination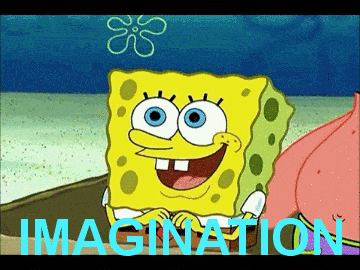 Pros: This guide provides information on Jewish social justice initiatives, Jewish LGBT resources, Jewish campus papers, interfaith opportunities, Jewish feminist clubs, Jewish disability and mental health resources, and more! Categories and information are based on extensive interviews with campus professionals AND Jewish student leaders from Jewish organizations across the political and religious spectrum!
Our guide will also spit cotton candy and play the ukulele.
Cons: None. We're perfect.
Least Reductionist Regarding Our Diverse Experiences as Jewish Students