Welcome to the revival of our weekly news round-up, where we try our long-winded best to summarize the Jewish news of the week, with bonus pop culture stars at the end. If you read something here that you want to say something about, get in touch: editor@newvoices.org.
Students at McGill University in Montreal voted against the ratification of a motion supporting the BDS movement — the third BDS-related vote over 18 months. The motion failed with a margin of 57 percent to 43 percent, with six percent of voters abstaining.
The University didn't comment until after the vote had taken place, when Principal and Vice-Chancellor Suzanne Fortier stated that the University administration opposes BDS.
"The BDS movement, which among other things, calls for universities to cut ties with Israeli universities, flies in the face of the tolerance and respect we cherish as values fundamental to a university," she wrote.
"It proposes actions that are contrary to the principles of academic freedom, equity, inclusiveness and the exchange of views and ideas in responsible, open discourse."
Jewish students alleged that the vote had triggered anti-Semitic harassment. The motion had been put forward by the McGill BDS Action Network to the Student Society of McGill University, which represents undergraduate students on McGill's main campus.
CTV reported that McGill donors had threatened to pull financial support over the initial vote, which puts the school's donors in league with York University's, using their money to register a vote in student government.
The controversy at York is over a mural in the student center, which shows a person wearing a Palestinian flag, holding rocks, and looking at a bulldozer approaching a tree. A the bottom of the mural, "justice" and "peace" are written in different languages.
The mural, painted by York alum Ahmad Al Abid, won a student art competition and has been in the student center since 2013. Al Abid described it as depicting "the relationship between the defenseless, the antagonist and the 'other'."
Gayle McFadden, the vice-president of operations of the York University Student Centre, told the Toronto Star that university officials haven't asked her to remove the mural, and that she has no plans to remove it.
But York donors really, really want it gone. Paul Bronfman, a member of the board of directors at the Friends of Simon Wiesenthal Center for Holocaust Studies and the chair and CEO of William F. White International, pulled his company's support for York's film program.
Bronfman's company usually offers grants to fourth-year student productions, as well as providing equipment and technical services. Bronfman will not reinstate his financial support unless the mural is removed.
Film students see themselves as collateral damage: "This whole situation has nothing to do with us, but we're the only ones really suffering," Marileina Pearson, a fourth-year film production student, told the Star.
The president of Hillel at York, Natalie Slavat, wrote an open letter asking the student center to take down the mural: "In the context of the Israeli-Palestinian conflict, stone-throwing means one thing: Violence."
York is forming a President's Advisory Committee on Inclusion in response to the controversy over the mural. In a Jan. 29 statement, York president Mamdouh Shoukri said, "The mural has given rise to a broader conversation about whether, as an institution and as individuals, we are doing all we can to ensure that all members of our community feel welcome and supported."
On CUNY campuses: Baruch College has opted to move its May 27 commencement ceremony up by an hour so that its Jewish students can get home on time for Shabbat, following a petition signed by nearly 1,400 students.
It's a positive development for the CUNY system, which over the past couple of months has been contending with reports of anti-Semitism coming out of several of its campuses.
The Zionist Organization of America, old friends of New Voices, has written a letter to CUNY that documents anti-Semitic incidents at four CUNY campuses, which they blame on local chapters of Students for Justice in Palestine. ZOA documents multiple incidents in the letter, including: the closure of a Brooklyn College faculty council meeting by SJP members, who allegedly called the yarmulke-wearing chairman a "Zionist pig;" demonstrators at a Hunter College rally for free public college tuition allegedly yelling "Jews out of CUNY;" SJP members at a similar rally at John Jay College allegedly blaming high tuition on Zionists; and swastikas painted at the College of Staten Island.
A change.org petition calling for CUNY to shut down its chapters of SJP currently has over 5,600 signatures. The petition, written by College of Staten Island journalism student Andrea Karshan, criticizes SJP for "hijacking" the issue of campus tuition and where the money goes to try to draw in more students.
An editorial in the New York Daily News called for a full investigation by Chancellor James Milliken, whose office said he's begun an inquiry into the incidents ZOA documented in its letter.
Rutgers University and the University of Wisconsin-Madison have also been dealing with swastika-related incidents: At UW-Madison, paper swastikas and photos of Hitler were put on a dorm room door in January, and a student at Rutgers taped a swastika to the ceiling of a shared living room, also in January, prompting a Jewish roommate to complain that the administration mishandled the incident.
Georgetown University's Jewish studies program will receive a $20 million endowment, including a $10 million gift from philanthropists Norma and Irma Braman for forensic research on the Holocaust, and rename itself the Center for Jewish Civilization.
DRAKEWATCH:
A link round-up would not be complete without the latest news of Canadian Jewish angel Drake, who blessed us by coming to the city to perform "Hotline Bling" at a bat mitzvah on Sunday, Feb. 21. It did not take my friends long at all to let me know, because my brand is incredibly strong: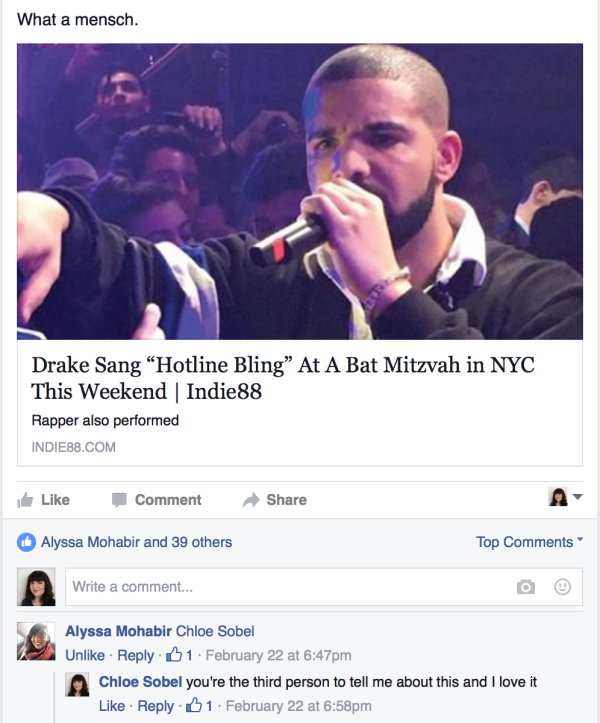 See you next week.
Got something to say about the above stories? Send us an email: editor@newvoices.org.