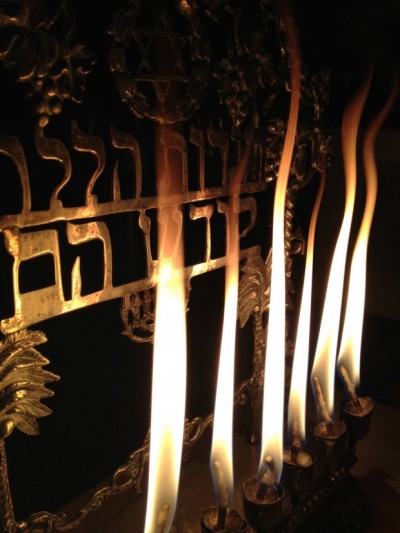 סְבִיבוֹן סוֹב סוֹב סוֹב
Sevivon Sov Sov Sov…
This is what my Safta used to sing to me, safe on a kibbutz somewhere in Israel, breathing in the desert air, the palm trees and the smell of olive oil illuminated my hair. It was my Mecca when I met a very handsome IDF soldier then I was a better me.
סְבִיבוֹן סוֹב סוֹב סוֹב
Sevivon Sov Sov Sov…
This is what I sing to you somewhere in Baltimore, far from Zion, far from safety, far from when I was a better me.
You were conceived into a world that scares me—a
Jewish girl lost, who is pregnant with a fetus that will be born a baby into a cold world.
When you are born from my womb, I will pray that my womb be blessed for many blooms but what will you find?
A world not up to your standards, nor mine.
But, do not worry.
I will name you Menorah born on the first night of Hanukkah.
So, it's beshert that you will shine.
Just remember, Hashem loves you and you're mine.
That is why I named you menorah, you're beshert destinied to shine.
I won't promise you'll never go hungry. The Macabees knew this to be true…
But, you (like a menorah) will always shine brighter than the ones hating on you.
I will sing on the first night of Hanukkah Sevivon Sov Sov Sov… סְבִיבוֹן סוֹב סוֹב סוֹב
Driedels will spin and miracles will begin.
We will eat sufganiot donuts and talk about how the Macabees win.
I will name you Menorah because you shine like a light that's within.
A great miracle happened here tonight when you were born.
You are a flower born in the dark, yet destined win.
So pass my memory on, my beloved, while we dance like driedels that spin.
Michele Amria is a student at the University of Maryland.