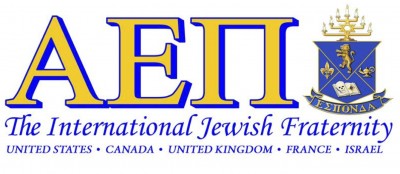 On April 30, 2014 the Conference of Presidents of Major American Jewish Organizations, an umbrella organization, rejected the liberal lobbying group J Street's bid for membership by a vote of 22-17. Leon Wieseltier, the literary editor of The New Republic, wrote an editorial shortly afterward denouncing the vote, saying "The question of 'what could be considered acceptable within the Jewish community' is a question of values, and has for decades been a matter of ferocious debate; but the mainstream is an empirical matter and it can be measured." Part of this Jewish mainstream now also includes Alpha Epsilon Pi, or AEPi, a nationwide Jewish fraternity, which became the CoP's newest member about a year ago.
AEPi voted against J Street's bid for membership. This vote lent urgency to a feeling among some close to the organization that it was becoming one-sided, and spurred the launch of a nascent movement to expose the Jewish fraternity to more left-wing views on Israel.  According to someone close to the situation, who insisted on speaking on the condition on anonymity, "J Street doesn't have the values that the more conservative organizations that AEPi is tied to has, specifically with regards to Israel and Israeli politics over certain issues." The source said that for the past couple of decades the fraternity has shifted politically conservative. "Just looking at the recent donors alone and the decision by the international office [of AEPi], it's become pretty clear that AEPi at least from the top, has certain leanings." However, the initiative is not to shift the fraternity from one side to another in terms of politics, rather it's to open AEPi to other views. According to the source, AEPi "has become a place where some of the people who would have fit in 30 or 40 years ago are no longer joining" due to their chapter's politics. The initiative to open AEPi to was done by "having conversations with leadership in different places and try to understand where they are trying to get that balance." The source added that sometimes AEPi's leadership does not make the best decisions in the interest of the undergraduates, rather making decisions for the sake of the donors. "Sometimes [the decisions of AEPi's leadership] are completely right, but sometimes it is also very political in nature," the source said.
Jacob Plitman, president of the J Street U National Student Board and a former member of the AEPi chapter at the University of North Carolina, Chapel Hill, wrote a blog post June 2 in the Times of Israel arguing, "AEPi's decision to vote against progressive Jewish brothers is against fraternal values, and against the values of the Jewish community we seek to strengthen," adding, "AEPi is not just a fraternity; it's a successful and influential Jewish organization. As its brothers and primary constituents, AEPi has an obligation to all in the pro-Israel campus community, including its many progressive pro-Israel members. And as the only explicitly Jewish fraternity…AEPi also has a duty to our whole community. … [I]t must embrace the diverse voices in the Jewish community, whether its donors or professional leaders agree with them or not." Plitman also wrote that organizations, such as the David Project and the Jewish National Fund, all donated between $3,600 and $10,000 to AEPi and are "hostile to J Street U."
But not all brothers agree that this is a problem. Josh Cooper, a senior at the University of Illinois, Champaign, and a member of the university's AEPi, said that neither conservative nor liberal stances dominate his chapter. "In a chapter of 130 individuals, everyone has his own personal views regarding Israeli politics, and therefore I cannot say for certain that there is a specific proportion that takes one position over another. However, I can confidently say as a very involved brother that the AEPi chapter at the University of Illinois strongly supports Israel as the national homeland of the Jewish people and that we are in favor of a strong U.S.-Israel relationship. Our chapter supports Israel as a democratic state and we support its right to defend itself and protect its civilians," Cooper said.
Cooper also noted the struggle on college campuses regarding Israel, where many organizations, such as Students for Justice in Palestine, according to Cooper, "distort facts and mislead people about issues in order to demonize Israel and equate Zionism with racism." According to him, "Many brothers in our chapter, including myself, have proactively focused our efforts towards educating students on the facts, as well as exposing hatred, lies, and sometimes even anti-Semitism on our campus."
Like Cooper, Barry Greengus, a member of AEPi at the University of Illinois, Chicago said his chapter also includes members with various views on Israel.  "There's no official chapter declaration of ideal. We're made up of a bunch of people with different views," he said.
However, not all AEPi chapters are politically active, even when it comes to Israel. According to Daniel Macks, a sophomore at Indiana University, Bloomington, the chapter at the university does not have much activism within in the fraternity house, though he added, "Walking through the house you see a lot of Israeli flags."
Another AEPi chapter that is not politically active is Massachusetts Institute of Technology (MIT). Evan Crane, a sophomore at MIT, said, "We have very little pro- or anti-Israel activism on campus. Most really don't care."
Though most current AEPi brothers seem to agree that their fraternity is strong, some now on the outside are left to openly wonder how much stronger it could be if it were more of a home for all Jewish brothers.
Jackson Richman is a student at The George Washington University.