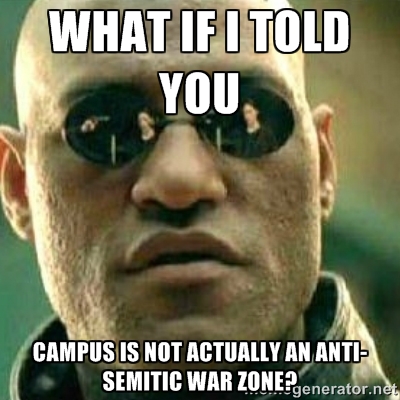 With the release of the University of California's campus climate survey results, the Anti-Defamation League and the regional pro-Israel watchdog AMCHA Institute pounced on the results, which indicated that life for Jewish students on UC campuses is less than perfect.
The results, announced last month, show Jewish students self-describe as some of the most uncomfortable in the UC System. At UC San Diego (my campus), Jews are listed as "least comfortable with the climate." While our Jewish mothers may see this as an opportunity to chide us by saying "I told you that you should have worn a sweater," poor climate for Jewish students has nothing to do with the weather (which is perfect in La Jolla, for the record).
Yes, in the world where Islamophobia, minority underrepresentation and racial issues (like UCSD's 2010 Compton Cookout) dominate the campus climate conversations, it is the Jewish students who feel the most victimized by other students on campus.
As a result, StandWithUs and AMCHA along with all their other pro-Israel/Jewish pals, who thrive on donors that sympathize for the tortured Jewish student on campus, can capitalize.  AMCHA even goes so far as to host a BDS map to showcase how much of the country has been affected by anti-Israel campaigns and faculties.
So naturally, no one was surprised when AMCHA cofounder and UC Santa Cruz professor Tammi Rossman-Benjamin penned an op-ed March 31 in a local Jewish paper entitled "Insider's guide to campus bias faced by Jews." The piece regarding the report tells readers (and donors) that "Jewish students have found themselves facing a new kind of campus anti-Semitism."
She goes on to talk about how Muslim Student Associations are ruining my life and how uncomfortable I feel on campus.
Aside from the inherent issues with the data that was reported in the survey results, Rossman-Benjamin is wrong on two major counts:
1)     She is not an insider for Jewish students on my campus (she's neither a student, nor is she here).
2)     I am not being targeted. I am okay.
In previous New Voices posts, I've written about how I feel totally comfortable being Jewish and wearing a yarmulke etc. But to tell me that I am under fire for my religious views and that I need to be saved is as offensive to me as a missionary telling me that I will burn in hell for not accepting Jesus Christ as my Lord and Savior (which is arguably a more common threat at UCSD).
As for the survey itself, AMCHA can relax. As for the circumstance under which the data was collected:
1) The survey was completed during the month that we had BDS on campus last year.
2) Jewish and pro-Israel groups on campus campaigned and pushed Jewish constituents to voice concerns in the survey.
3) The data reflects last year and its "uncomfortable" environment, particularly to BDS victims. The current freshman class (which has not experienced BDS or any anti-Israel activity), I believe, would have much higher "comfortable" rates.
AMCHA and Standwithus would have its donor base believe that Jewish students on campus are threatened, demonized, and bullied, but that simply is not the case. This has been a very peaceful year, and as my successes in bringing the Union of Jewish Students together with the Muslim Student Association for dietary advocacy shows, a political and religious divide does not really exist. UJS sent delegates to an Islam awareness week interfaith panel last quarter and save for a single protester (Christian), the event was peaceful, informative, and the MSA president personally thanked me for attending.
It isn't fair to make accusations against my peers (especially my non-Jewish ones) and then to victimize me in order to boost fundraising campaigns.
I spoke at a panel for the ADL in April 2012, a month after a failed divestment resolution took seven hours of my time away. I told an audience of Temple Beth El Congregation members and ADL guests that sure, no one in my community loves BDS, but it wasn't ruining my experience as a Jewish student.
Two years later, the same is still true. I'm here as a Jewish student, "studying" for exams, editing a paper, and trying to make this a better place for the next round of Jewish students. But running around and crying wolf over events that are not affecting me is unfair and not productive.
To AMCHA, et. al, calm down. I'm fine. But let me be the one who decides that.
Zev Hurwitz is a student at UC San Diego and is editor in chief of the campus newspaper, the UCSD Guardian.