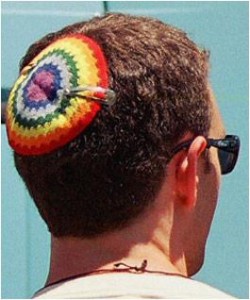 It is a problem that I and many other queer Jewish students face: as religious folk, we want to pray. But how do we – gay, lesbian, bisexual, trans*, queer, and other identities across the "rainbow " – connect with a liturgy that is often seen as heteronormative, cis-normative, and well, "straight"?
Some say, "the current prayers and halakha already encourage queer inclusion." Others say, "we need a new queer liturgy" – to be achieved – as some have attempted – through wording changes, omissions, and new additions. Sure, we know that liturgical changes and additions have been common and controversial across the Reform, Conservative, and even Orthodox movements. But do these tendencies extend to us LGBTQ folk?
I decided to look beyond my own experience and do an informal, hardly scientific survey of some other queer Jewish students I know. I found two tendencies: to search, or to adjust.
To Search: Finding Queerness in the Unchanging Prayer
Eva (names in this piece are changed), a bisexual student at Columbia, notes: "Jewish prayer and tradition is a historically constituted event." Thus, she notes, reciting tefillah, which for her is a daily practice, is not bounded to be in the here and now of 2013 alone: rather, it is part of a centuries-long and continual process. As a result, she does not see a need for the prayer to cater to her needs in 2013 as a queer person specifically.
Such a response was common – and, as I shall elaborate, is similar to my own conception – among many of the people I interviewed.
Many considered changing the traditional liturgy "wrong" or "immoral" – Dinah, a graduate of the University of Chicago, described herself as "fairly against liturgical modifications." Such an approach not only comes from a Jewish legal or sociopolitical standpoint, but also from a personal point of view. Such prayers – for her, and others – carry meaning built by personal experience and understandings, often outside the experience had as a queer person. "Who am I to change them?" is a common thought. Sam, a gender-queer student (who prefers the gender-neutral pronouns "ze"and "zir") in Washington, DC, prefers prayers to be "traditional…despite everything."
Change is often construed, as it is in the wider Jewish world, as anathema. Becky, a Midwestern law student, finds the prayers "nostalgic and comforting" – and thus translates her own concern as a queer person to ensuring that the space where prayer takes place is friendly. The prayers themselves are not to be touched – and doing so, as Shimon – another University of Chicago student – would "rid the liturgy of the different faces of God."
That does not preclude, however, queerness from being already within the liturgy. Dinah and Shimon both note that gender changes – in prayers such as Yedid Nefesh – in the Hebrew conjugations allow them to conceptualize "God as lover" in the gender they are attracted to. In such a context, a gay male may find that a common, typically "Orthodox" version addressing God as a male is friendlier than the Conservative movement's and the Koren Siddur's preferred, and older, "feminine" edition . Others find that prayers can be attached to queer experience. Becky often thinks of her own queer experiences – and the experiences of other queer people – during parts of the central Amidah. Other students take a more general stance and use the language of "fabulous" – a compliment and positive attribute across parts of the queer world – to describe G-d and His/Her/Zir actions, and their understanding of descriptions in the liturgy in Hebrew and English alike.
I myself have found that a hymn traditionally limited to more traditional environments – Anim Zemirot – speaks well towards my own experiences as a gay man. The romantic yearning towards a masculine, warrior God who is yet wise and delicate is not foreign to my own romantic experience. Furthermore, certain words act as puns that reference medieval homoerotic Hebrew poetry – thus leading to my own personal interpretation of An'im Zemirot as a homoerotic paean, describing G-d as a young, eligible, intelligent, and highly handsome bachelor. Which gay man could resist? (Okay, many, true.)
To Adjust: Changing the Prayer to Reflect Queerness
Yet simply searching is not the method that works for all: a liturgy that assumes a heterosexual approach to God, or a specific gender assignment for God, does not map to a different vision of God many queer people have. Thus, they change the liturgy for themselves.
Sometimes, an obviously heteronormative line is a place for change. In the Friday-night hymn Lecha Dodi, the line "kimsos chatan al kalah" – like a groom to his bride – has rankled many a queer parishioner. Joel, a transgender graduate of the University of Chicago, notes that it simply doesn't speak to his experience of God. He and many others prefer the rendition "kimsos lev be-ahavah" – as a heart in love, as used in New York's LGBTQ synagogue, Congregation Beit Simchat Torah.
In other places, obviously gendered language is reworked to meet a different expectation of gender – or to break the monopoly of a masculine, "male" God. Though the shekhinah – presence of God on earth – has long been understood as "feminine," the idea of God is still commonly understood as well, something more traditionally "male" – right down to the prayer response of  barukh hu barukh sh'mo ­ Blessed be He, Blessed be His Name. Many worshippers choose to change traditional formulations to imply a female God. Joel sometimes uses the formulation b'rukha hi b'rukha sh'ma – Blessed be She, Blessed be Her Name. Other students report "fooling around" with the gender of God in prayer depending on their mood or what they feel is needed at that time – Shimon notes that sometimes, he actually does want to envision the traditional, hyper-masculine vision of God as ish milchama – a warrior. Others find gender-neutral formulations to replace traditionally gendered speech. Rather than using ben or bat (son of/daughter of), Sam uses the formulation mi-beit (from the house of) when reciting names during prayers for the sick. Others, including myself, replace traditionally patriarchal language in the morning blessings – in which men thank G-d for not being made a woman – with the traditional language of the woman's recitation: "who has made me by His will," or with other words.
Thus, in these ways, the liturgy is changed to reflect a queer experience that does not necessarily reflect heterosexual expectations of romance, gender roles, or gender itself.
So What? Queer Reflections on the Broader Liturgical World
So why should we care about whether or not we queer Jews change the liturgy or not? What does it say about queer Jewish identity, or for that matter, liturgical change more generally? And why should this matter to a Jewish population in which the majority of members do not speak Hebrew or have issues with or care about the liturgy as is?
I think at least two things can be gleaned from these experiences. Firstly, liturgy is reifying: To find your own voice, your own experience in the prayers written two thousand years ago – be they verbatim or adjusted – is a rewarding and beautiful experience. A liturgy that can reflect queer voices – be it unchanged and traditional, or changed slightly or not-so-slightly – is a liturgy that celebrates queer Jews.
Secondly, and in the spirit of intersectionality, queer Jews do not live or pray in isolation. What queer Jews do with prayer offers other hints for liturgical change. Is change always good, or does a change – such as re-gendering a prayer – reinforce marginalization of another group? Is it possible to find new interpretations for ancient prayers oft regarded as irrevocably "problematic"? And how can one bend language or wordings to reflect the diverse experiences of the Jewish people?
In this way, searching or adjusting are both valid methods towards that longer goal expressed in the liturgy: le-dor va-dor nagid godlekha – and we shall praise God from generation to generation.
Jonathan P. Katz is a student at the University of Chicago.