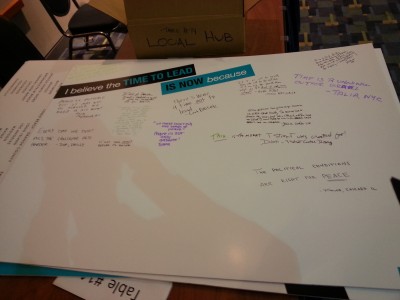 It used to be, said a speaker at J Street U's plenary session during the national J Street Conference, that students were expected to listen to learn from others. Now, he said, with the success of the fights for civil rights, marriage equality, unionizing, and women's rights—all of which were led by student movements—the world should stop to learn from us. And peace between Israel and Palestine will be next on this list.
I went to the J Street Conference with some amount of trepidation. I was not an official member of J Street before, and now after having gone, while I'm still not a member, I wish I were still on campus so I could sign-up for J Street U.
J Street has always been one of those organizations I really want to like more than I do. I came into the Conference expecting to come out finally being able to say I support them without any buts, but, alas, something always stands in the way. I want to like them because I completely support their platform and their stated goals. Like them, I am pro-Israel. Like them, I am also pro-Palestine, pro-peace, and thus also pro-two states. I will pick them over AIPAC every time.
The thing is…if I had gone into the Conference not knowing anything about conflict, I would have come out of it thinking Israel is a brutal occupying force and that Palestinians are their innocent victims. At most events I attended, every mention of Palestinian oppression and Israeli wrongs was met with huge applause. Every mention of Israel's legitimate right to self-defense or praise for the IDF was met with lukewarm applause, at best. This is ridiculous.
Yes, I appreciate that as a movement of mostly Jews, we can only help what we do, and therefore sycophantically praising ourselves while condemning the other would be counter-productive (and I already said I prefer them to AIPAC). And yes, it goes without saying many of the conventioneers were concerned with distancing themselves from the views of their right-wing counterparts as loudly as possible. What happened at the J Street conference was typical of what happens any time a group of likeminded individuals gets together to talk about what they all agree upon. Those who disagree become the Other, the one who's always wrong, the one who obviously must like hurting people.  In such contexts, self-proclaimed open-mindedness proves no anecdote to likemindedness.
A good example of this was the well-received speech of Meretz (a left-wing party in Israel) Chairwoman, MK Zahava Galon, who came to the conference all the way from some fantasy wonderland where all Israel has to do is take down the security fence and everything will be okay. I know that is not J Street's official position, but they had her at their main plenary event as a warm-up to Vice President Biden. Clearly, they don't condemn this view.
All this made the J Street U delegation an even bigger breath of fresh air. As a member of the press, I couldn't go to most of the student sessions, but what I could see filled me with hope. Two years ago, I learned, the J Street U conference was 20 students in a room at Brandeis. Now, it was 900 ideologically, religiously, and even ethnically diverse students from all over the country weighing in on the difficulties and dangers of being a passionate moderate about Israel on campus. Many of the speakers at the student plenary session—notably the President of J Street U's Student Board, Jacob Plitman from UNC Chapel Hill—lamented a sad reality I know all too well from my days at Pitt: Israel advocacy on campus is seen as an either/or proposition. Either you view yourself as "parachuting into a battle zone with your [pro-Israel] talking points" or you are helping the other side win. The majority of students reported being denied a speaker on campus because s/he was deemed "too political" or "too one-sided," as though college students can't be trusted to hear out another side and make up their own minds.
The guest speaker, Husam Zomlot, Executive Deputy Commissioner for International Affairs, Palestine, nailed it. After telling his story of being raised in a refugee camp on the Egyptian boarder after his family fled 1948 war, he said he doesn't want to be pro- or anti- anything, he just feels everybody deserves a passport with a clear state on it. This is why he believed the students in that room are the future because they believe in different people sharing similar values.
This quality was shown further in the next day's panel discussion about Birthright. Time and again, the students on the panel (notably New Voices alum Harpo Jaeger) expressed their criticisms of Birthright for its failure to paint an honest picture of Israel, for not trusting students to hold nuance in their heads and intelligently act on it.
I don't know what it is about getting old that makes people see things in black and white, but I'm proud my generation appreciates the beauty of gray. While I know there were J Street U activists in that room who I would vehemently disagree with, what matters most is that everyone was willing to honestly, openly listen and have a reasoned debate. Black-and-white thinking is so twentieth-century. Living on campuses with extreme left- and right- wing groups constantly shouting at and expecting things from you, it takes courage to be a passionate, reasonable moderate. This courage builds character, and, I think, when this tested character goes out into the world to make peace, that's our real greatest hope for the future.
This is what I learned at the J Street Conference: We are the gray generation, and it's Our Time to Lead.
Derek M. Kwait graduated from the University of Pittsburgh and is editor in chief of New Voices.