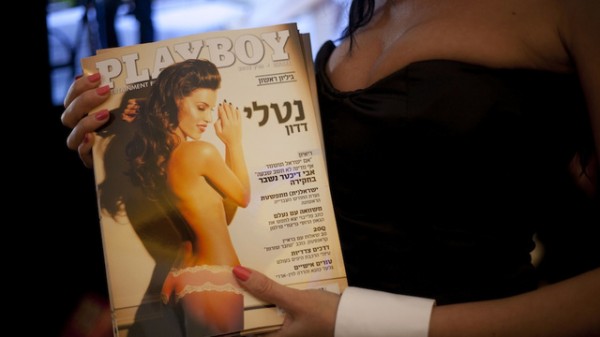 My friend Kyle emailed me earlier this morning with the subject line "Baruch Hashem." And baruch hashem indeed. As AP reports, Hugh Heffner's vast pornographic empire has finally extended its titillating grasp to the olive-lined land of our brethren: Playboy, the 60-year-old popular men's magazine/soft porn magazine (depending on your mood), has just launched its very own Hebrew language edition.
While Playboy has been available for purchase in Israel for a while, this new edition will specifically feature Israeli writers and models. And will be in Hebrew. The owner and publisher, Daniel Pomerantz, sees this expansion as an exciting opportunity for "local Israeli talent" to get involved in the adult magazine business. While erotica is freely available in Israel, the last print-only erotica magazine to launch in Israel (Penthouse) went bust when it debuted in 1989.  Pomerantz didn't seem worried though, as he eagerly drew parallels between Play Boy and The State Of Israel, saying that they were both "serious and fun fashionable things… that are complicated and beautiful." Well, when you look at it that way, soul mates.
He further explained, at Tuesday's launch party/press conference in Tel Aviv that  "our (Playboy's) target is men who want a taste of the good life and also women who are curious about the tastes of the men in their lives." It really warms my heart at how much consideration women get in the explanation of who Playboy is targeted for (read: none), but I guess this news isn't about me or my female friends (at all), and is instead about the awesome work of globalized media and cross-cultural-exchange. It does seem like an unusual occurrence, given the  attention that Israel has been recently giving to tackling destructive images of women in the media, such as a recent slew of laws regulating the emaciated visual culture of femininity.
I know the question on everyone's mind though is, how will the charedim react to this? Do you think that as long as they wear their vision blurring glasses while reading, then it can still be kosher? My bet is that they will continue to refuse… until they get their yiddish edition.