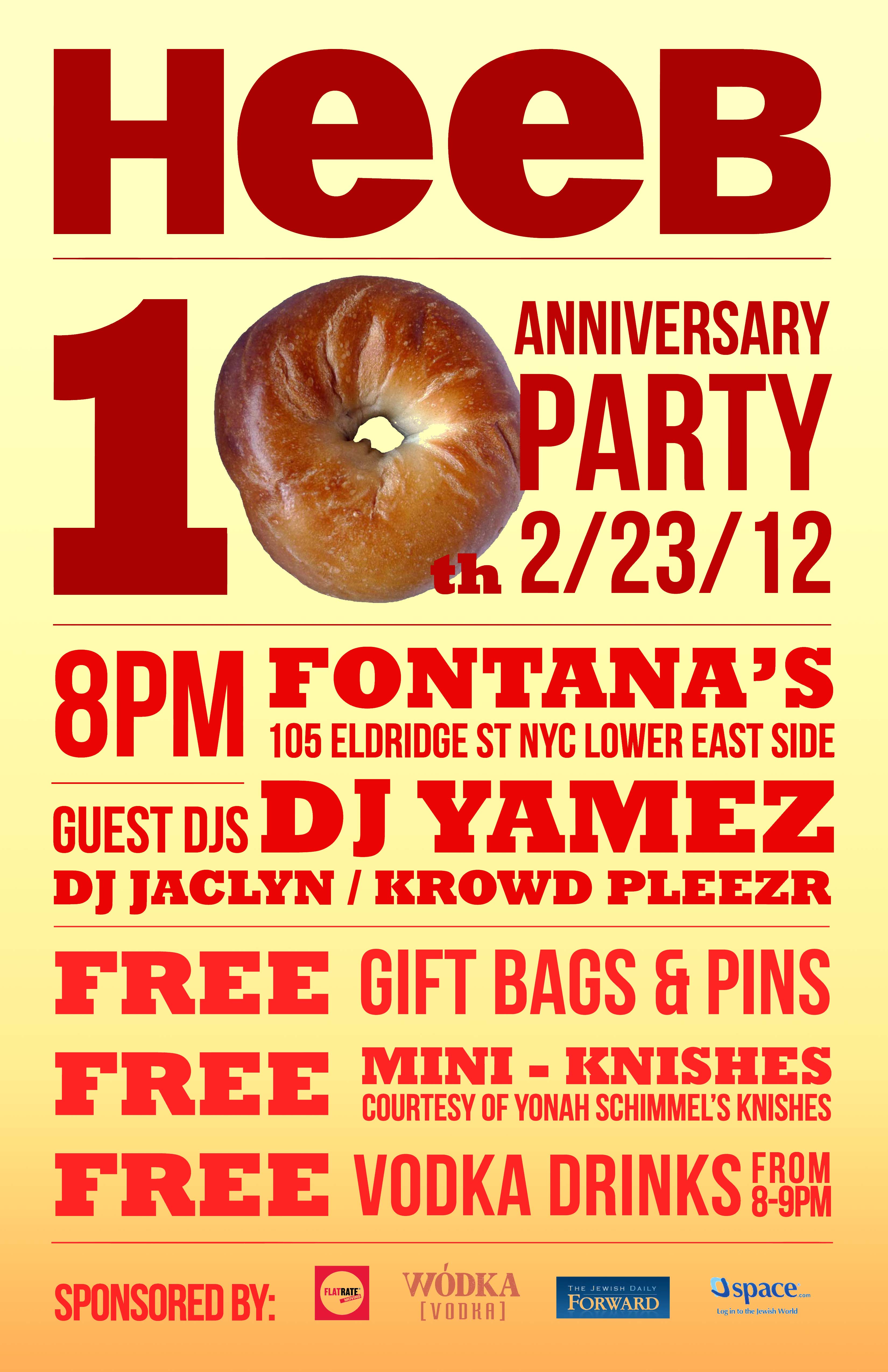 If you'll be in NYC on Thursday night and you have a hankering for free vodka, free knishes or the general debauchery both of those delightful things imply the world over, join me at Heeb Magazine's 10th anniversary party.
And if you're still not convinced — or you wanna know what the actual details are — enjoy the bizarre ad copy contained in the press release they emailed me about it:
MEDIA ALERT: HEEB AIN'T DEAD. IT'S ABOUT TO THROW A PARTY TO PROVE IT!
COME JOIN US AS HEEB MAGAZINE CELEBRATES ITS TENTH ANNIVERSARY
(New York, N.Y., February 13, 2012) – Gawker started the Heeb Magazine deathwatch more
than two years ago. But screw Gawker; we'd rather celebrate a birthday than a yahrtzeit.
Heeb – the magazine that brought you the Jewfro, Jonah Hill with a lubed-up bagel, and Sarah
Silverman posing nude behind a sheet with a hole in it – will celebrate the tenth anniversary of
its birth with a party that will look more like its own Jewish wake than it will a bris.
That's right, it's been a decade this month since Heeb forced itself on America's mainstream
with as a publisher of irreverent Jewish humor and lifestyles features.
So come celebrate with us on Thursday, February 23 at Fontana's on Manhattan's Lower East
Side.
Flatrate Moving, the Forward newspaper, and J-Space are sponsoring the shindig. Wodka
Vodka is going to make sure that we get nice and liquored up by sponsoring an hour of free
vodka drinks from 8:00 p.m. – 9:00 p.m. We'll even throw in some free knishes.